BOARD OF DIRECTORS

 
Charley Beal • President
Charley is a lifelong social activist who attended his first civil rights demonstration in Lansing, Michigan in 1962. He is also an award-winning art director for film and television, working with renowned directors including Mike Nichols, Nora Ephron, Ridley Scott, and Gus Van Sant. His film credits include Sleepless in Seattle, First Wives Club, In & Out, Milk and Eat Pray Love. TV credits include Boardwalk Empire, Smash, Gotham, and Power. Beal worked closely with Gilbert Baker beginning in 1994 when he assisted Baker with the creation of the Mile Long Rainbow Flag for Stonewall 25. He continued to collaborate with Gilbert on numerous projects including Worldpride 2000 in Rome and several other pride celebrations around the globe. He would frequently be seen at demonstrations holding one of Gilbert's infamous political banners
Jay Blotcher • Publicist
Blotcher, a veteran LGBT journalist and activist, served as volunteer publicist for the founding chapters of ACT UP and Queer Nation. For three decades, his PR firm, Public Impact Media Consultants, co-founded with Alan Klein, promoted progressive organizations, artists and projects. Blotcher's nonfiction essays appear in nine anthologies. He is the editor of the Gilbert Baker memoir Rainbow Warrior.
Cathy Marino-Thomas
Cathy lives with her wife, Sheila and daughter Jacqueline. Sheila and Cathy have been together 25 years. The family lives in Queens, New York.
Cathy spent many years as a Buddy in the Gay Men's Health Crisis (GMHC) Buddy Program visiting people afflicted with HIV/AIDS and assisting them with daily chores, advocacy and information. She has worked on the issue of marriage equality since 1998. Serving as Executive Director of Marriage Equality NY for 3 years (2005 – 2008) and Board President for 6 years. After merging Marriage Equality NY with Marriage Equality USA 2011, she served as Co-President of Marriage Equality USA for 3 years, retiring in 2014. Cathy has spoken all over the country about the rights, privileges and obligations that protect families only through the right to civil marriage. 
Cathy served as Steering Committee member and organizer for Gays Against Guns for 4 years, connecting with like minded activists across the country on the issue of gun control. Cathy is on the Board of Equality New York's 501©3. She is working to elect representatives that will seek equality in the law.
Bill Berman 
Bill is a marketing and communications professional with more than twenty years' experience developing integrated communications for some the world's most iconic brands. Bill and his team at Ogilvy created the globally recognized and multi award winning "Type with Pride" campaign which introduced the world to 'GILBERT', a free font honoring Gilbert Baker and his iconic rainbow flag. Bill is co-chair the Board of Directors for NewFest, New York's LGBTQ+ Film and Media Organization and believes strongly in the power of bringing communities together< 
Bruce Cohen
The award winning film and television producer of AMERICAN BEAUTY, MILK and WHEN WE RISE
Michelle Millar Fisher
Michelle Millar Fisher is the Ronald C. and Anita L. Wornick Curator of Contemporary Decorative Arts at the Museum of Fine Arts Boston. Michelle, along with Paola Antonelli, was responsible for adding Gilbert's Rainbow Flag to the permanent collection at the Museum of Modern Art in New York City.
Aaron Casserly Stewart
Former singer with the three time Grammy Award winning group the Sounds Of Blackness, as well as a producer, educator and a native of Parsons Kansas where Gilbert grew up. Aaron returned to Parson's where he was elected to serve as the first openly gay member of the City Council, also serving as interim Mayor. Aaron is a co-creator the Gilbert Baker Film Festival there and was planning on awarding Gilbert the Key to the City; an event cut short by Gilbert's untimely passing in March of 2017. Aaron now resides in England with his husband Peter and works as the CEO and Founder of Paradise Hill Productions and as Professor at the London Performing Academy of Music.
Monica Helms
an activist, author, and veteran of the United States Navy. She is the creator of the Transgender Pride Flag and the founder of the Transgender American Veterans Association. Monica lives in Atlanta with her wife Darlene where she continues her advocacy for the trans flag and community, as well as her career as the author of 5 books including her memoir MORE THAN JUST A FLAG.
STAFF
Michael Yasofsky 
• Chief Financial Officer  
Michael is a student at the NYU Stern School of Business concentrating in Finance and Management. He is the President of NYU Pride Corp and interned for the Gilbert Baker Foundation in early 2021, where he helped develop the Emojis of Pride campaign. His interests lie in strategy consulting, the luxury retail industry, and nonprofit organizations.
Larry Burnett • Chief Digital Officer
Larry Burnett is a seasoned creative marketing and content strategist with over 20 years experience. Larry has helped many brands with their digital strategy including positions as a senior creative at HBO and manger of AOL  Music.   Larry is recipient of many industry awards from Promax/BDA, CTAM, Webby and Yahoo Music. He also served as President of the Board of Directors for the NewFest Film Festival for 8 years.  
Vincent Guzzone • Chief Video Officer
Vincent is a filmmaker and retired New York City firefighter and police officer. As a member of the FDNY he was decorated for his work on the 911 rescue and recovery efforts. Vincent worked closely with Gilbert Baker on an exhibition of Baker's Map Paintings in Hudson, New York in 2016 and accompanied Baker to the White House in 2016 to present a Rainbow Flag to President Obama. Guzzone's film "Love Gilbert" is now playing in the exhibit "Performance, Protest and Politics, The Art of Gilbert Baker" at the GLBT Museum in San Francis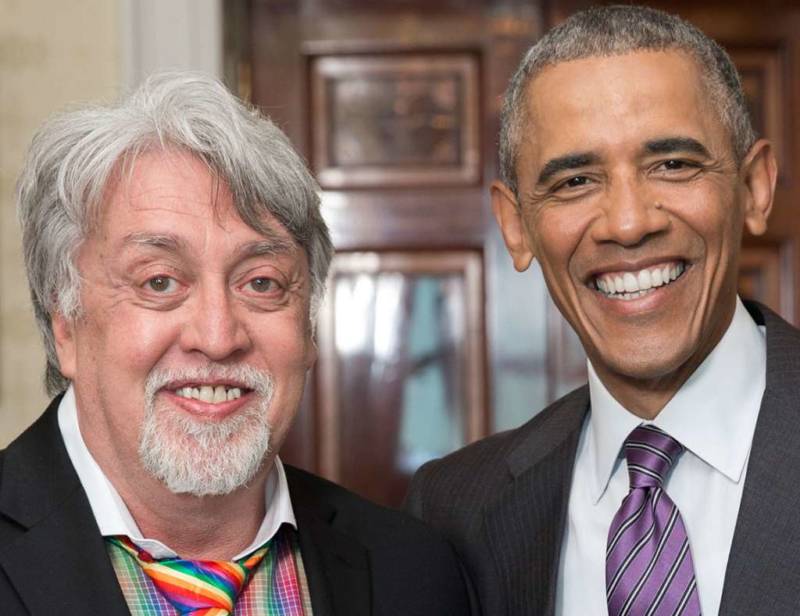 Photo Courtesy of the White House