Board of Directors
Charley Beal: President   Charley is a lifelong social activist who attended his first civil rights demonstration in Lansing, Michigan in 1962. He is also an award-winning art director for film and television, working with renowned directors including Mike Nichols, Nora Ephron, Ridley Scott, and Gus Van Sant. His film credits include Sleepless in Seattle, First Wives Club, In & Out, Milk and Eat Pray Love. TV credits include Boardwalk Empire, Smash, Gotham, and Power. Beal worked closely with Gilbert Baker beginning in 1994 when he assisted Baker with the creation of the Mile Long Rainbow Flag for Stonewall 25. He continued to collaborate with Gilbert on numerous projects including Worldpride 2000 in Rome and several other pride celebrations around the globe. He would frequently be seen at demonstrations holding one of Gilbert's infamous political banners
Jay Blotcher of Public Impact Media Consultants, publicist for the Estate 
Bill Berman Group Director at Ogilvy & Mather, Co-lead at Ogilvy Pride NYC
Bruce Cohen, the award winning film and television producer of AMERICAN BEAUTY, MILK and WHEN WE RISE
Michelle Millar Fisher, Assistant Curator, European Decorative Art and Design, at the Philadelphia Museum of Art. who along with Paola Antonelli was responsible for adding Gilbert's Rainbow Flag to the permanent collection at MOMA. 
Matt Foreman, veteran LGBT advocate and currently Senior Program Director, Gay and Lesbian Rights at the Haas Jr. Foundation in San Francisco
Administration
Tim Sanghoon Joung: Chief Financial Officer  
Tim is a student at NYU Stern Business School and secretary of NYU Pride Corp. He also interned for the Gilbert Baker Estate in 2018-2019 Assisting in the effort to register the estae as a nonprofit foundation and in the area of trademarking. 
Larry Burnett: Chief Digital Officer. 
Larry Burnett is a seasoned creative marketing and content strategist with over 20 years experience. Larry has helped many brands with their digital strategy including positions as a senior creative at HBO and manger of AOL  Music.   Larry is recipient of many industry awards from Promax/BDA, CTAM, Webby and Yahoo Music. He also served as President of the Board of Directors for the NewFest Film Festival for 8 years.  
Vincent Guzzone: Chief Video Officer
Vincent is a filmmaker and retired New York City firefighter and police officer. As a member of the FDNY he was decorated for his work on the 911 rescue and recovery efforts. Vincent worked closely with Gilbert Baker on an exhibition of Baker's Map Paintings in Hudson, New York in 2016 and accompanied Baker to the White House in 2016 to present a Rainbow Flag to President Obama. Guzzone's film "Love Gilbert" is now playing in the exhibit "Performance, Protest and Politics, The Art of Gilbert Baker" at the GLBT Museum in San Francis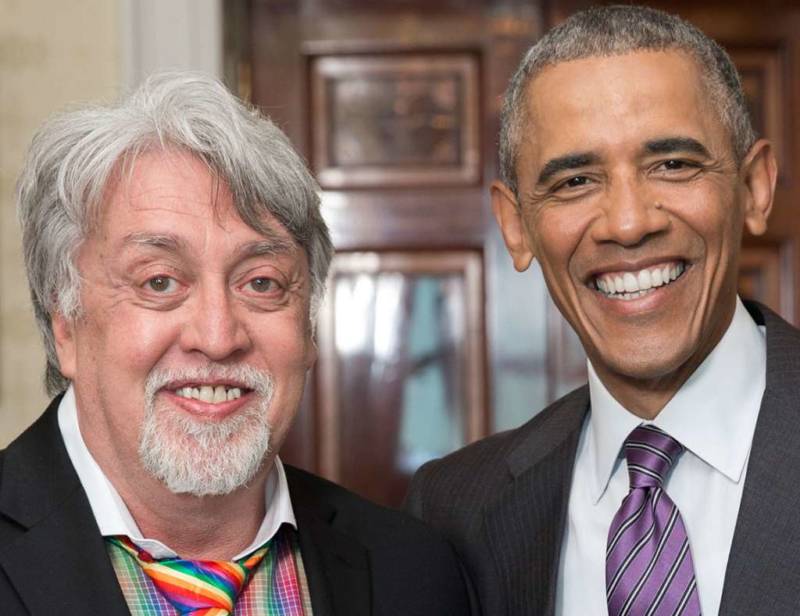 Photo Courtesy of the White House